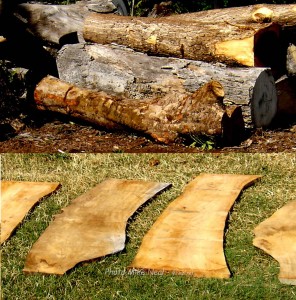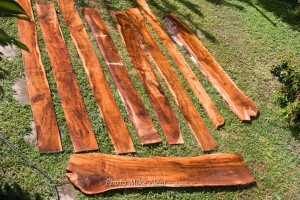 Hi, my name is Mike and I'm a woodaholic.
You can ask my wife, I cannot pass up a slab of Maui's amazing hardwoods. It started at yard sales, a piece here, a piece there, till I had to build a shed to store them. Then I found the mill, oh my, the "candy store" for someone with woodlust. I began hanging around the millyard (100s of logs and piles of slabbed wood) looking through every pile looking for just the right piece. Whether it's Koa, Mango, Monkey pod, Norfork Pine, or Opeuma, I love um all.
I also love driftwood. Whenever we have big storms with heavy rains, you will find me searching the river-mouths for chunks of battered and beaten pieces of wood. So anyway, now my backyard is piles of wood, every nook and cranny in the shop is piled high.
Woodlust, ya I've got it, because wood "speaks" to me. I mean, I see a piece a wood and it says "rocker" or "fish sculpture" or "treasure box", it lets me know what it wants to be. Every piece of wood has a story, in this section of the blog, I will share the history of the wood and the process it took to become what it "told" me to make.
Aloha,
Mike