Turning bowls is one of most satisfying things I do in wood. There is something raw and exciting about taking a chunk of wood and turning it into a useful and beautiful vessel. There alot of inherent risks involved with the process. It takes a commitment to sacrifice an expensive piece of wood.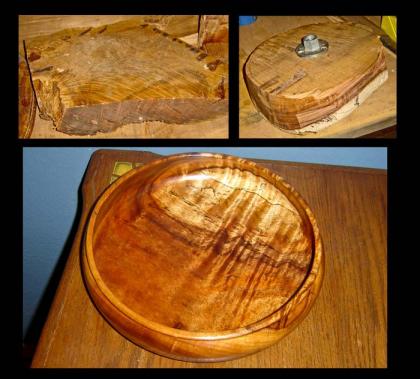 There is a very real chance that it will have a flaw inside or you make a mistake and it explodes off of the lathe at 1500+ rpms. There is also the flying wood chips and dust created while carving though the wood with a razor sharp gouge or knife. On the other side of the risk is the reward. Creating a graceful shape, revealing the hidden beauty of the wood and aesthetic value of both form and function, keep me on the edge of anticipation. Each calabash or vase is unique, the pattern of the wood, the curve of the shape and history of the piece of wood adds to the sense of satisfaction to each one I make.

I have also been carving intricate patterns into these forms, adding to the sculptural aspect of the turning process.
There are some master turners on Maui, their work is the inspiration that keep following in their path. Check out the links below to see some of their work.