Koa is the most beautiful wood I have had the pleasure to work with. The color, texture and amazing three dimensional depth, put it in a class of it's own. A variety of the Acacia tree family, unique to Hawaii. It grows to be eighty plus feet tall, from sea level to near the tops of the mountains. Unfortunately it is also rare, having been cleared for cattle and burned to process sugar in the late 1800's. There is a movement to restore it, but that's another story.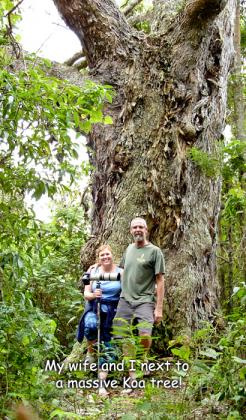 The wood that I use for my creations comes from "windfall" trees, downed by the forces of natural. None of the mills I work with cut live trees, so it is often difficult and expensive to come by.
This particular  piece of wood is from a tree from the upper slops of East Haleakala on Maui. It had been on the ground for a while, so it had begun to decay. This process called "spalting" can add dramatic color and depth to the wood.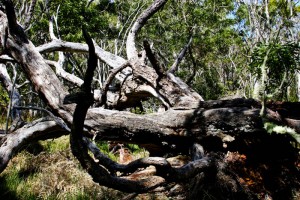 When I'm looking for a piece for a rocker, there are two things I look for, structural integrity and dynamic patterns in the figure and curl. I look for natural curve in the grain for the runners and solid straight grains for the support components, as well as distinctive patterns and curl for the arms, seat and headrest. This can take some time, at $45-$65 a board foot (12″x12″x1″) you don't want to make a mistake.
After selecting the raw slabs, I lay out the design (each chair is different, as I do not use stock templates) and rough cut the various components. These pieces are stacked in my drying shed to stabilize. After two months they were ready to be shaped and sanded to a near finished point before assembly.
Each component must be hand fitted to ensure tight joints. This process takes weeks, as each section is glued and cured. Each rocker's wood has a different weight and balance point that must be careful worked out before the final glue up. I use a marine epoxy and waterproof glue,  so it needs to be right the first time. I let the glued up chair sit for a few weeks to cure and stabilize before finishing.
The next step is to sand the entire chair over and over, applying thin layers of lacquer sealer until all the grains and joints are baby bottom smooth. A final lacquer finish is sprayed and a hand rubbed wax and oil is applied.
My goal in a rocker is to create a piece of furniture that is both comfortable and aesthetically pleasing, revealing the amazing beauty of the wood.
Aloha,
Mike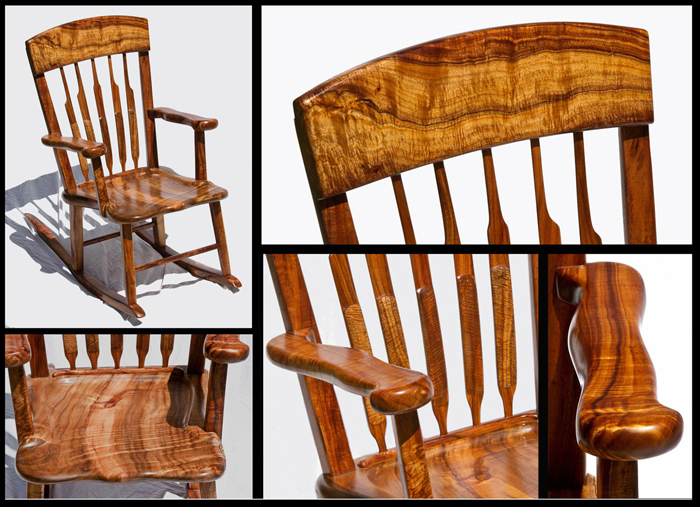 This chair was SOLD at Native Intelligence